Reviews By You!
Suncoast Casino (Las Vegas, NV): July 5 - 6, 2003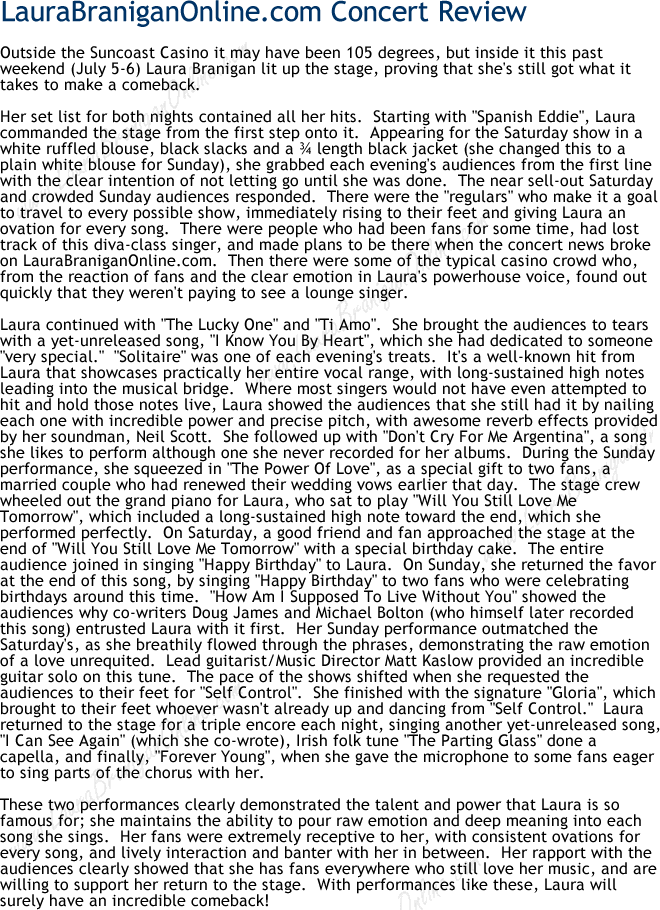 Well, if the heat wasn't hot enough over the 4th of July weekend in Las Vegas, then Laura Branigan definitely drove the mercury up even more. I have to say that in all the concerts I've ever attended, this was the most happening concert ever! I say that because I have never seen an artist become more involved with her audience in my lifetime. The concert lineup until the encore was the same as the Baltimore show, but with alot more energy. Laura was flawless this time and her band keeps getting better and better. The showroom at the Suncoast was almost completely full (way to go Laura!), and the energy was in high gear. Fans jumped to their feet as Laura opened the show again with "Spanish Eddie." Laura had a little pickle with the lighting manager, but made a joke out of it. Tears were found throughout the audience as Laura sang "I Know You By Heart." The passion and pain she still feels from the loss of her husband are still apparent whenever she performs this song. She even said as she finished, "Isn't that a sad song?" "Solitaire" was probably my favorite song of the evening as this was the best I've ever heard her perform this song. Way to go on hitting all those high notes Laura. After finishing the song, Laura said "it all comes from the diaphragm." One audience member shouted out "not bad after 20 years." Laura replied, "not bad? That's all?" I intervened and shouted "it was awesome." She then said, "there you go!" Laura performed on the piano and sang a wonderful rendition of "Will You Still Love Me Tomorrow." Celeste disappeared from the audience at that time and came back with a surprise Birthday Cake for Laura. What a nice touch Celeste! As I stated, until the encore, the lineup was pretty much the same as Baltimore. But then, Laura came back out for the encore and surprised us by saying "the next song is one I've never performed for you all yet." Then she continued to perform the new song, "I Can See Again." You all will love the entire song. It's so beautiful and Laura never missed a beat on this song. Next she sang the Irish folk song "The Parting Glass" acapella. ...And finally, "Forever Young" ended the set. She shook so many fans' hands and was presented with a bouquet of flowers. She also had many people come to the edge of the stage and put the microphone up to them to sing short phrases from "Forever Young." The acoustics at the Suncoast were great. Laura even made a comment about them. It seemed like everybody had a wonderful time, including this Flyboy from L.A. Thanks again Laura for sharing your heart and soul with us all.
Stephan Wilke
Ladera Ranch, CA
My trip to Las Vegas was worth every penny it cost me to get there. Having low vision and traveling on my own to get there was probably the scariest thing I've ever done in my life but it turned out the be the neatest, most exciting thing I've ever done! I wasn't disappointed in any way, as far as meeting the fans was concerned. Everyone was very nice and very giving of themselves. I want to especially thank Kathy & Vince, Stephan & Maureen, Natalie and most of all, Leanne, for their kindness and generosity toward me in Vegas.

Being able to meet fans from the website and put faces with names was so wonderful and I'm glad I didn't miss this opportunity of a lifetime to do so. Leanne and I had been telephoning and e-mailing each other for six years now and we finally got the chance to meet and we shared a hotel room. I had met Celeste, Natalie, Becky, Antonis and Sheila before and got to see them again. I also met Kathy & Vince, Stephan & Maureen, their friend Chris, Tim Hill, Preston, Terry & Jennifer, Shanika, Nicole and Linda & Katrina.

Seven of us met for dinner on Saturday night. Me, Leanne, Kathy & Vince, Stephan & Maureen and Tim Hill went to a buffet dinner in the Suncoast Hotel just before the show.

Laura put on a spectacular show. She was dressed very nicely, with black dress sandals, black pants and blazer and a white shirt. She also wears glasses now, even when performing. She was in excellent voice and nailed every song. She opened the show with Spanish Eddie, then did The Lucky One, Ti Amo, I Know You By Heart, Solitaire, Don't Cry for Me Argentina, Will You Still Love Me Tomorrow?, How Am I Supposed To Live Without You?, Self Control, Gloria and then, to our delight, she sang I Can See Again, which she said she has never sung in public before. She then did an a capella Irish song and ended with Forever Young. She dragged it out longer and was handing the microphone down and getting people to sing it with her. (I wanted it so bad and she didn't give it to me). She also shook hands with us fans who stood in front of the stage. In the middle of the show, Celeste snuck away and came back out with a birthday cake for Laura with lit candles on it. We all sang Happy Birthday to her. After the show, there was a meet & greet. The contest winners got to meet her first. We were given pictures of the front of the Best of Branigan album for her to sign. I also got her to sign my Hold Me CD insert. We had to be out of the concert hall by 10:00 PM so there wasn't a lot of time. My only wishes are that she would have allowed pictures to be taken and that she would have been able to open the gifts we brought her, in front of us so we could see her reaction when she opened them. I hope she enjoys them.

It was wonderful to meet Laura again as well as all of the other fans. The whole weekend was a wonderful experience and memories I will treasure for a long time to come.

Hugs to all,
Karen Heath
Manchester, Pennsylvania
Hi everyone, it's a long story but I ended up getting Victor's winning tickets for the show. Karen and I sat with the other contest winners Linda and her friend Katrina. What can I say Laura killed! She looked great
she wore black pants, white roufled shirt and black long blazer. She was wearing glasses and looked so cute! She said she was wearing them for reading and now was finding that she was having trouble without them. Her
band was in top form as well. I have see her before and must say she certainly topped that performance. The room she played in was a great venue, very intimate setting, there probably isn't a bad seat in the house. She
opened with Spanish Eddie, moved into The Lucky One, Ti Amo (which was a treat), I Know You By Heart, Solitaire, Don't Cry For Me Argentina, they pulled out the piano for a stirring Will You Still Love Me Tomorrow (Celeste snuck off and towards the end of the song brought out a birthday cake and we all sang Happy Birthday to Laura, she said she wondered what Celeste was up to and laughed and said she really must have to go pee or something! How Am I Supposed To Live Without You? came next, then she did one of my faves Self
Control and my friend Nat was nice enough to take Karen and me to the front of the stage where she was sitting so we were dancing to that and Gloria. She went off stage and we were all chanting Laura, Laura and then she came back and said "I'm going to play a new song which I co-wrote I Can See Again". I loved this song on LauraBraniganOnline in the little snippets so it was a real treat to hear it completely! Then she did this Irish folk song called The Parting Glass (she mixed up the lyrics on the second verse but quickly recovered) she did this song acappella. Then she finished it out with Forever Young and got the audience to sing along (so there you go Melanie we all got to finally sing with her!) Then we did the meet and greet. Karen went first and I think Laura thought it was amazing that Karen had travelled by herself (Karen is visually impaired) and gave her a big hug and said it's great you did it! Karen gave her a gift and Laura said it was smart of her to have a concert so close to her birthday hee hee more gifts! I was next I also gave her my gift (I wish she would have opened it right there) and she gave me a big hug, I told her I came up from Canada and told her I had seen her a few years back in Vegas and it was great to see her again. She signed a photo from Best Of Branigan and I had my Touch CD for her to sign. I was disappointed she wouldn't allow photos because I really wanted one with her. Then we went and sat and watched the rest of the fans. There was quite a few who were waiting to see Laura. I'm glad I went I met so many great people. It was great to finally meet Karen who I have known now for around 6 years.
A special hello to in no particular order: Karen, Stephan, Maureen, Chis, Tim, Nat, Shan, Nikki, Celeste, Sheila, Terry, Jennifer, Preston, Linda, Katrina, Becky, Antonis; it was awesome to finally meet all of you! A big thank-you to Kathy and Vince for their enormous generosity you guys are the best! Everything you did for Karen and I won't be forgotten!
Leanne Kingsbury
Grande Prairie, Alberta, Canada
Editor's Note: Victor Smith had won a pair of Saturday contest tickets, which he originally accepted and invited Leanne to take the second ticket of the pair. However, circumstances prevented him from attending, and he gave his own ticket to Leanne also.
In their wildest dreams, Celine Dion and Madonna could never aspire to a voice like THIS.

Even though we lived a nine-hour drive from Las Vegas, we were expecting to be a little disappointed: Ms. Branigan is just a little bit older now (like the rest of us), and her life has been so very rocky at points. We just wanted to see and celebrate her.

Oh. Were we mistaken! The wild-haired siren has become an elegant lady with a depth and wisdom in her music that raises goosebumps from head to toe... and tears. Recordings and my little review here cannot convey the warmth, power, intelligence, emotion, and shimmery, wave-like quality of her voice as it literally dances up and down arpeggios. Yes, yes, of course the power is amazing -- it seems to possess her, threatening to levitate her right into the air as she sings -- but it really is the hard-earned soul-beauty that makes you want to weep. A few of the extra-long notes that belong to recording history were not there, but it seemed ridiculous to expect those on top of everything else!

Moreover, Ms. Branigan was also a gracious performer. She treated the audience as family, or at least very dear friends -- inviting them to laugh at the occasional flub, answering yelled questions, treating the handful of
too-rowdy fans with gentle affection, touching the hands of people as she sang. I was most touched by the expression of one frail, beaming octegenarian woman whom Laura made a special effort to reach (and nearly
fell into the audience.) After the performance and a THREE song encore, including an acapella number, she changed into comfortable shorts and tennies, and signed pictures and HUGGED the waiting fans.

I feel kind of sorry for all those "divas" out there. They've got a lot to live up to, and it's just not possible.

Thank you for a beautiful show. We made a special trip for the Sunday Suncoast performance, and took days off to drive home, but we still got the best end of the deal.

Nye Marnach
Santa Cruz, CA

reviewing Sunday July 6 performance
This was the most special and enjoyable concert I've ever seen. Laura looked amazing, sounded amazing, and communicated with her audience in a way lacking by so many. Simply put, my wife meant it when she yelled "Celine, beat that!" Vince and Kathy, what can I say? This was one of the highest, and most special memories in my life now... my wife and I had a super weekend... it's behind my wedding, children's births and graduation from college... but in the top ten, and we owe it to you. Thanks doesn't cover it, but thanks.

Terry and Jennifer Vandergrift
Ada, Oklahoma
reviewing Sunday July 6 performance
Please step to one side Celine, you and your multi-million dollar extravaganzas…. Laura is BACK!

I was absolutely delighted when I found out I was one of the winners in the ticket contest. Fortunately for me, and thanks to Kathy and Vince, I was able to exchange one of my Sunday tickets for the show on Saturday, hence me being able to watch both magical shows.

Magical they were! Laura stepped on stage to 'Spanish Eddie'… what a surprise it was to see that she had her glasses on! Can I just say, Laura looks and sounds fantastic – she has definitely still got those vocal chords, and she still looks very elegant! Both shows were brilliant despite the occasional lyrical mishap, which was soon forgotten due to the sheer power of her voice, and brilliance of her performance! The emotion on her ballads is something else, and she has the faster tracks like 'Self Control' and 'Gloria' down to a fine art, in fact, I don't think I have ever heard ' Gloria' sound so good live before!

Two highlights for me were 'I Know You By Heart' and 'I Can See Again', both of which are simply stunning. You can hear that both mean a lot to Laura, and if they are indicative of the rest of the tracks on Laura's up and coming album, then we will be getting, in her words, the 'perfect' album that she wants to put out!

If one had to compare shows, both were superb, but for me, the second one had the slight edge. Laura appeared more confident, and the audience seemed easier to please, although on both nights, everyone was having a great time. Overall, Laura seemed so chilled on stage, making jokes and passing comments to both her band and the audience alike.

We were all fortunate enough to meet Laura after both shows. This was something really special to me. What a nice lady, so down to earth, and an absolute sweetheart! She signed so many items for me, and she even said she would sign as many items as I wanted her to sign because I had come all the way from England to see her! To be honest, she thanked me about four or five times for coming so far to see her shows!! It was interesting to find out that she had never seen a copy of the Tour Programme for her 1993 South African promotional tour – it was lucky for her that I had two, so I gladly gave her the spare copy on Sunday night!

I was a bit disappointed that I couldn't have my photo taken with her, but the fact that I got to meet her, and chat briefly to her was enough to bury any disappointment that I may have had at the time!

Thanks to Kathy and Vince for giving me the opportunity to see Laura perform once again, and also for allowing me to meet her.

To the fans I met – it was nice to put faces to names at last! Hopefully we will meet up again soon!

To John, Laura's tour manager (I think that is his name!), and Matt, the music director, thanks for getting me a set list! That is one item I will treasure, especially after Laura signed it! Thanks guys…. you're stars!

To Laura… Thanks for two incredible shows! I really look forward to seeing you in concert again, and hopefully it'll be on my turf this time! (Boy, did I push the fact to her that she needs to hit Europe with full force...!!)

Tim Hill
United Kingdom
reviewing Sunday July 6 performance