Joined: Mon Dec 16, 2002 4:30 pm
Posts: 4384
Location: Pennsylvania, USA
State/Province: PA
Country: United States
Continuing on with the 2010 SOL recap, we're up to Saturday evening. When we all gathered back again in the meeting room after our dinner break, we were joined by Tommy Bayiokos, Laura's special friend and percussionist. Tommy has joined us each and every gathering we have held since the beginning in 2005. We're very grateful for his close friendship, and for his unwavering commitment to make sure that Laura is remembered and her legacy furthered. It's always a very special time each SOL as our guests either get to know Tommy, or catch up with him after having met him at a previous event. Special thanks to Tommy for always showing up with various mementos to hand out to the fans, as these items mean so much to everyone!

After the time of greetings and conversation, it was now time for Laura's Candlelight Memorial. As a prelude, we watched Other Half Entertainment's

I Know You By Heart Memorial Video

, produced in 2005 by Rob Machado. Watching Laura performing, spending time she loved with her fans and those special in her life, all with Laura's own vocal underneath, make this a very poignant video and beautiful tribute. Next, we dimmed the lights and gathered in a circle for the Candlelight Memorial. There's something so beautiful as one candle is lit and then that light is passed on to the next person until we all become a circle of light. With the instrumental version of

I Know You By Heart

playing in the background, Vince started off with a few words, and then the floor was open for all to express what they wished to about Laura and how she has touched each of our lives. I can't express enough what a special time this is, with every year's memorial going on for longer than the previous one. It's an emotional time where hearts and souls are laid bare, but in an atmosphere where all feel comfortable doing so, amongst others who can identify with what each other is feeling. By the time our candles burned down to almost nothing this year, every one had taken the opportunity to share with our group, and once again it was a very cathartic experience for all of us who love Laura. When we brought the lights back up, we sat back down and enjoyed listening to Christopher Cross'

Think Of Laura

, while an LB slideshow played on the screen. So many wonderful memories of Laura, and so wonderful to be a part of this memorial time each year at the gathering.

At this point, I had left the room briefly, and when I came back, I was in for a surprise! When I came back into the room, everyone was sitting there looking at me with silly glasses on. Knowing there was a MASTER practical jokester in the bunch, it didn't take me long to realize who was behind the silliness - none other than JIM! He sure worked quickly while I was out of the room, getting everybody ready for my return! I busted out laughing as everyone looked absolutely hilarious, and commented that I know Laura, practical jokester extraordinaire that she was, had to be laughing hard at us! What was there to do, but to join the rest of the crowd and put my silly glasses on as well! As we were headed into one of the most fun parts of the event anyway, the photo session, it seemed only appropriate that I would announce that our first group photo should be one with the crazy classes on, so here it is, followed by some great pics of everyone!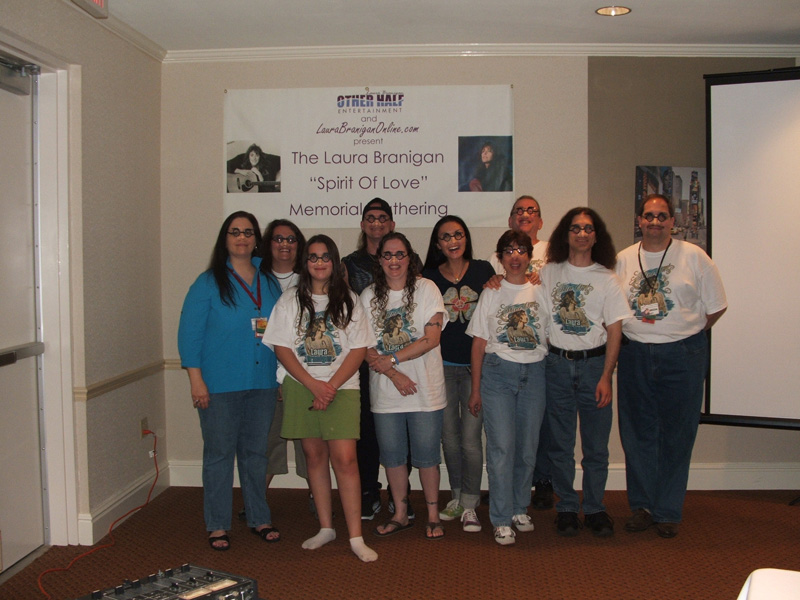 The SILLY one!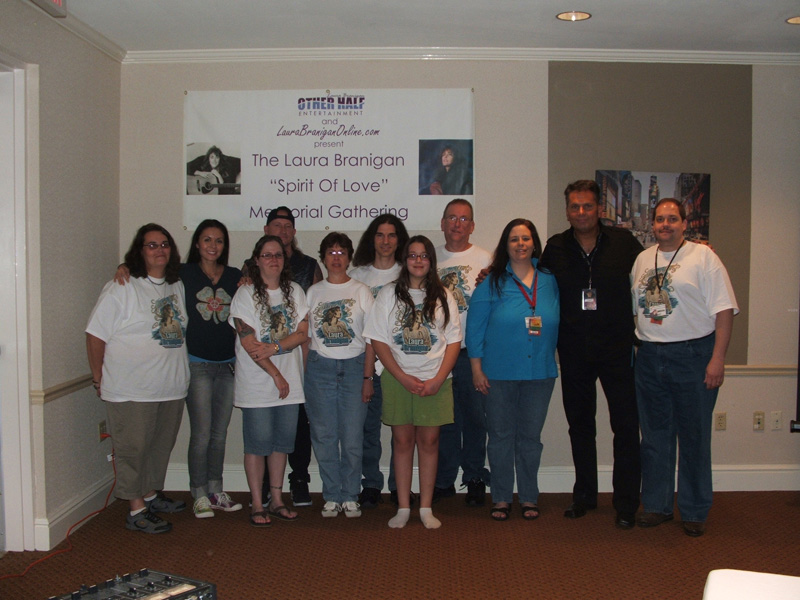 and the "official" one!

Left to right: Jen, Erika, Tracy, Mark, Sharon, John, Rhiannon, Jim, Kathy, Tommy, and Vince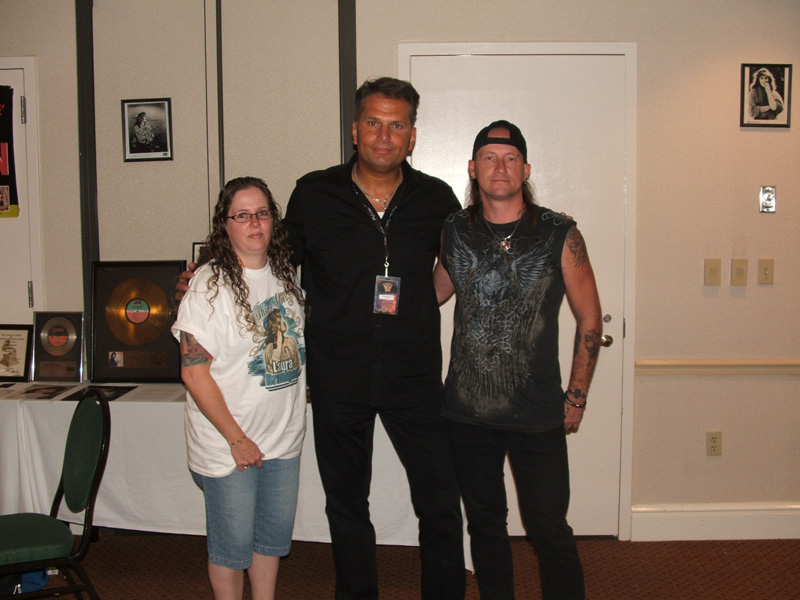 Tracy, Tommy, and Mark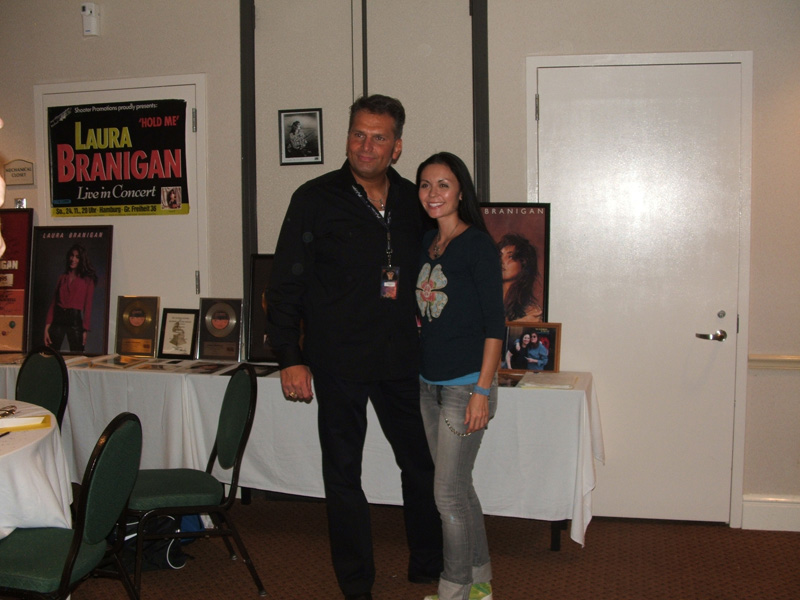 Tommy and Erika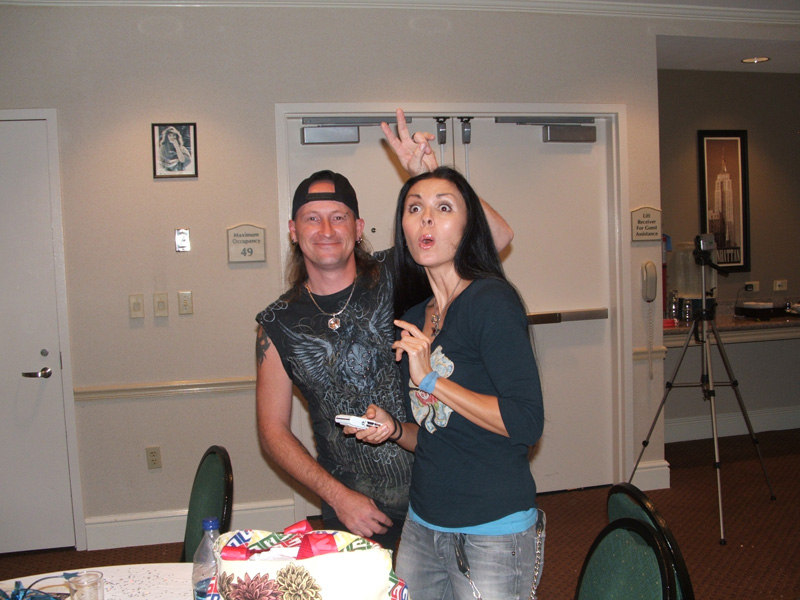 Mark and Erika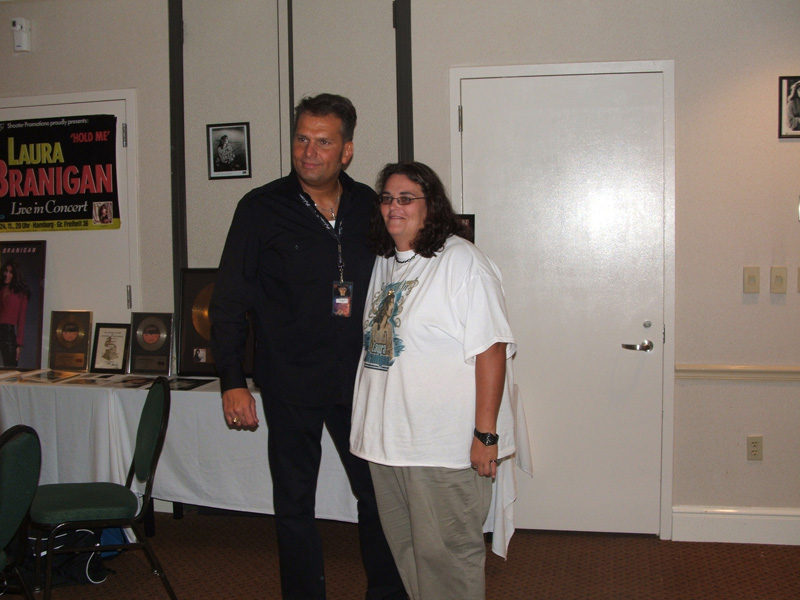 Tommy and Jen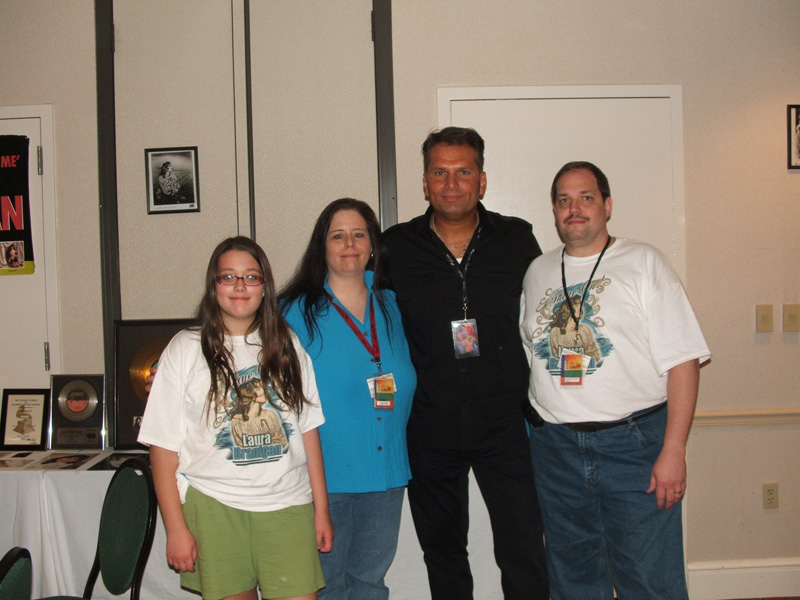 Rhiannon, Kathy, Tommy, and Vince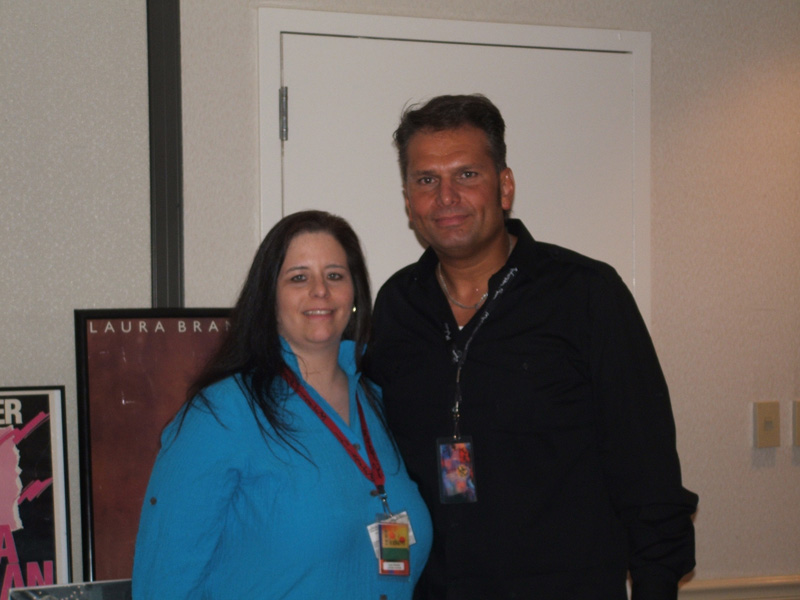 Kathy and Tommy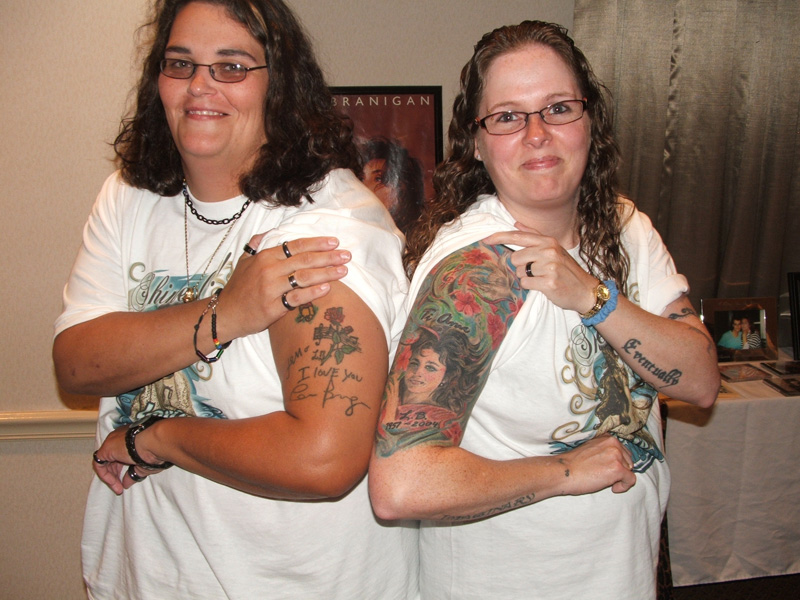 Jen and Tracy (again) with their LB tattoos!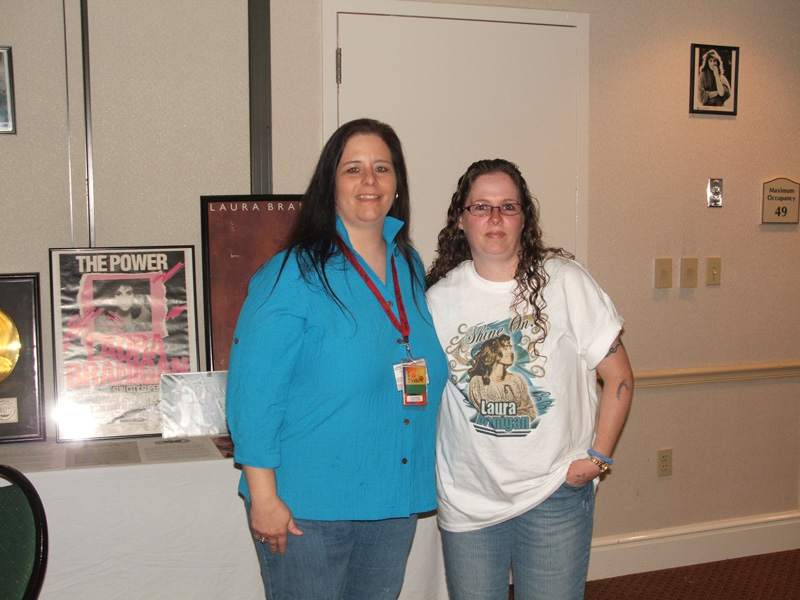 Kathy and Tracy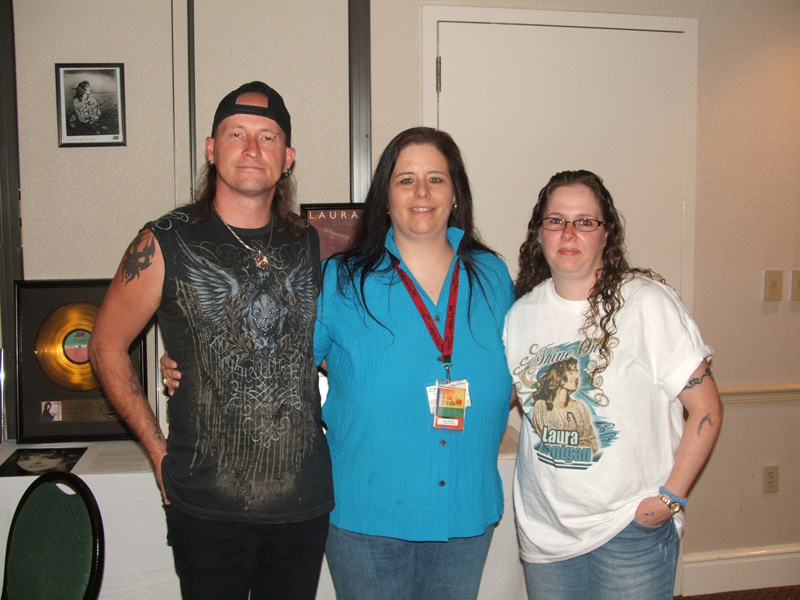 Mark, Kathy, and Tracy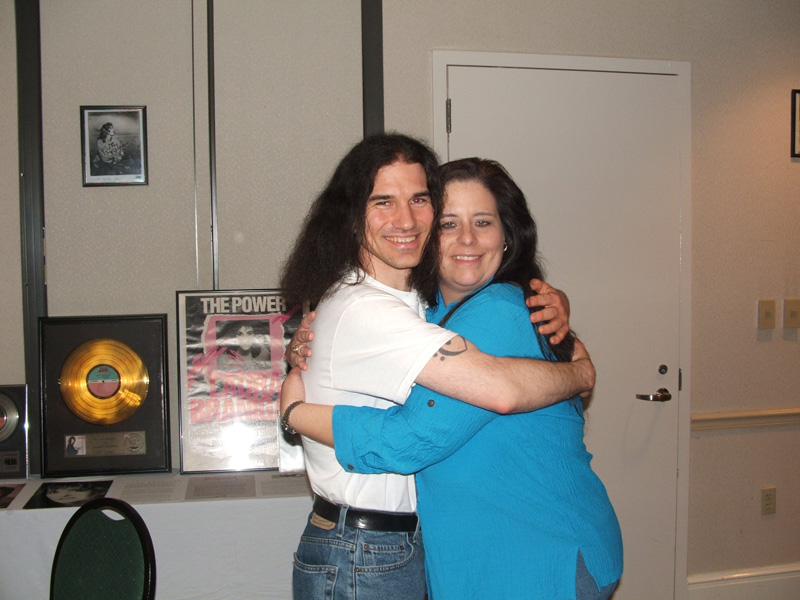 John and Kathy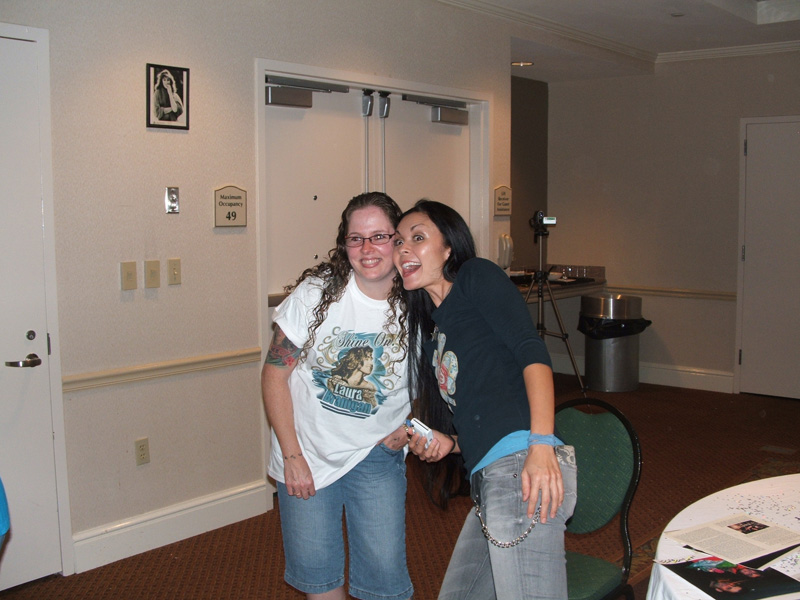 Tracy and Erika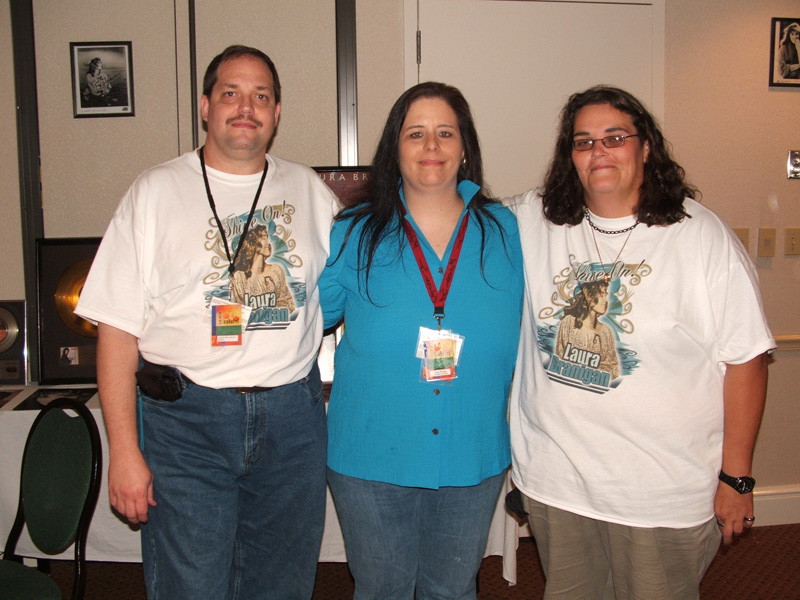 Vince, Kathy, and Jen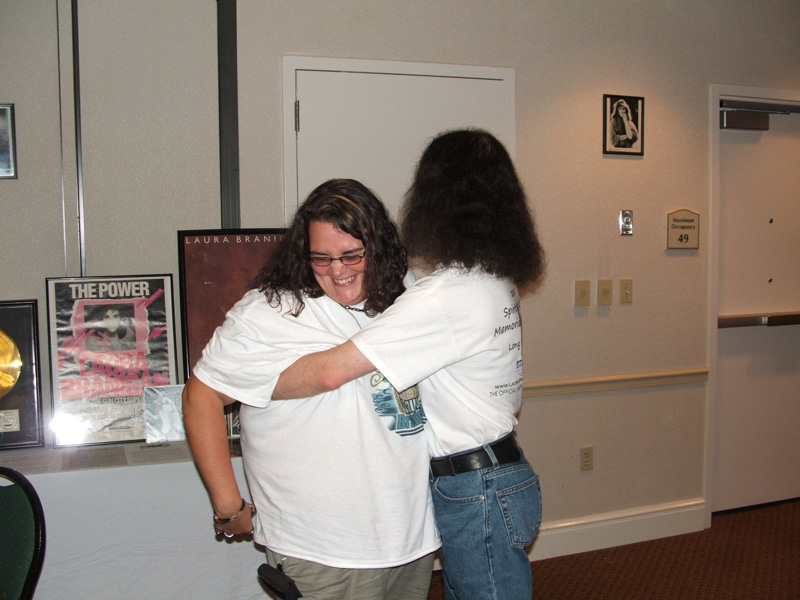 Jen and John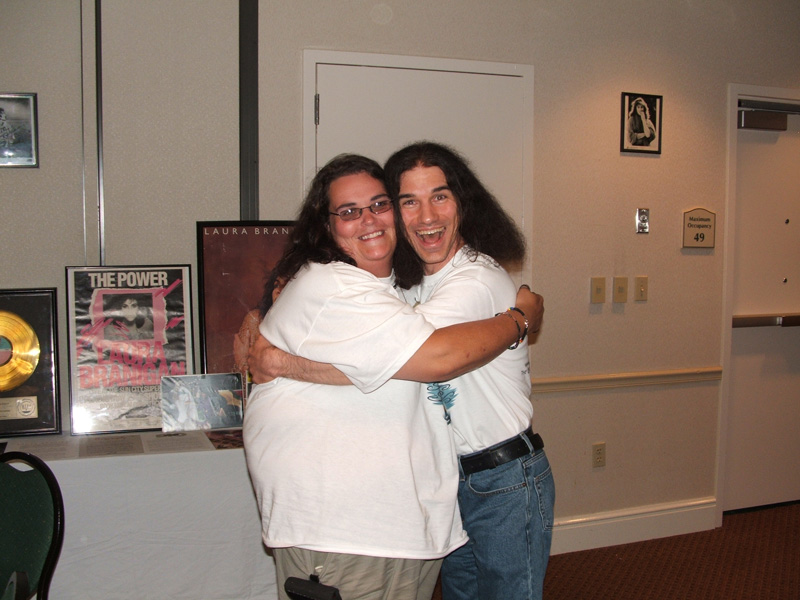 Jen and John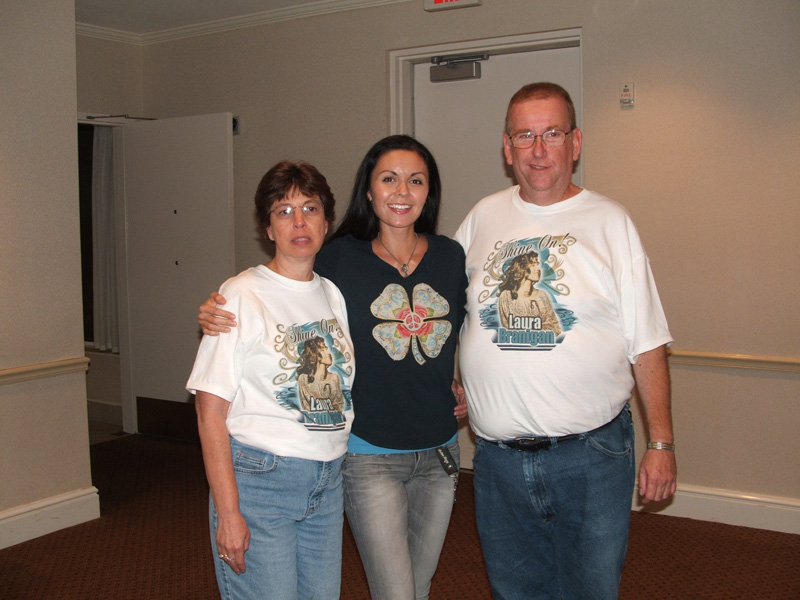 Sharon, Erika, and Jim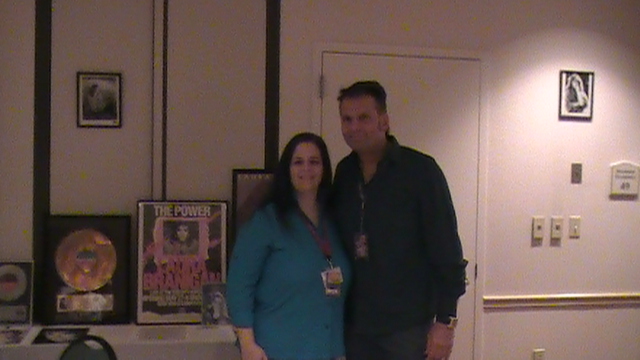 Kathy and Tommy

* Courtesy of John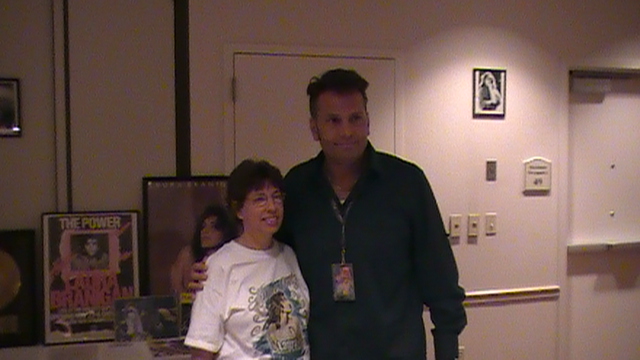 Sharon and Tommy

* Courtesy of John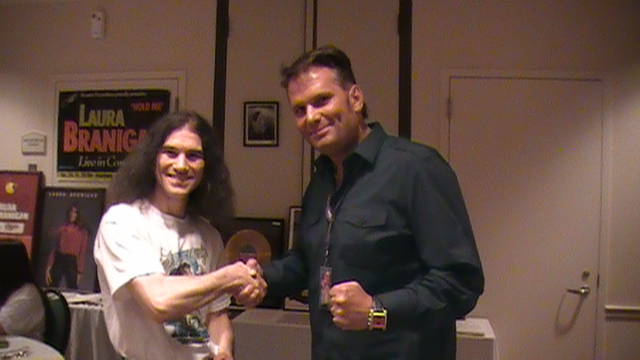 John and Tommy

* Courtesy of John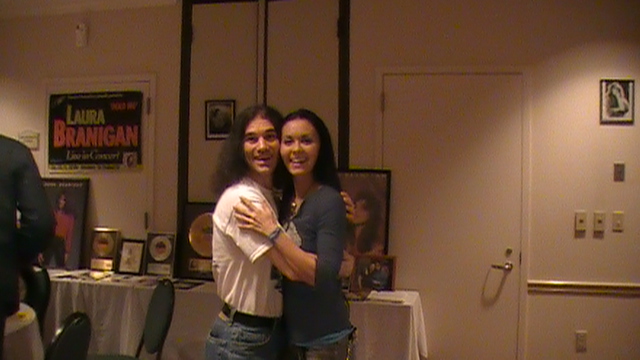 John and Erika

* Courtesy of John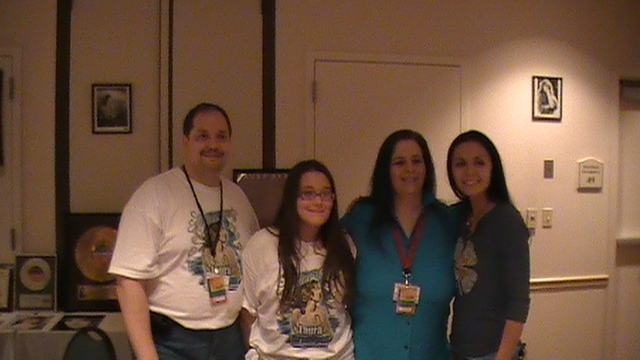 Vince, Rhiannon, Kathy, and Erika

* Courtesy of John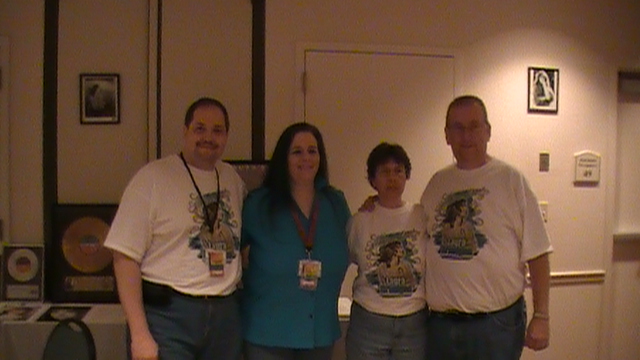 Vince, Kathy, Sharon, and Jim

* Courtesy of John





Vince and John .... and in the background, Sharon, Jim, and Tracy

* Courtesy of John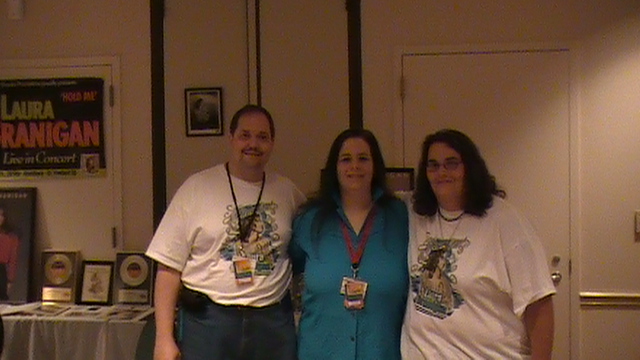 Vince, Kathy, and Jen

* Courtesy of John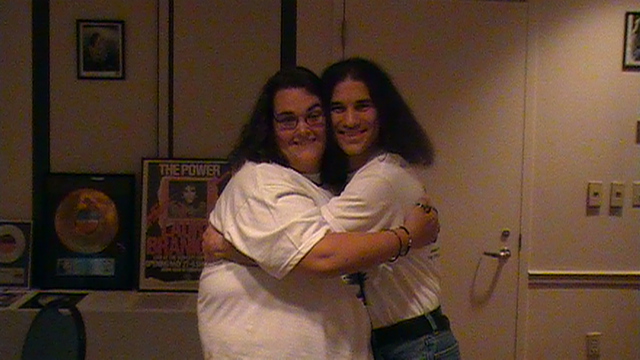 Jen and John

* Courtesy of John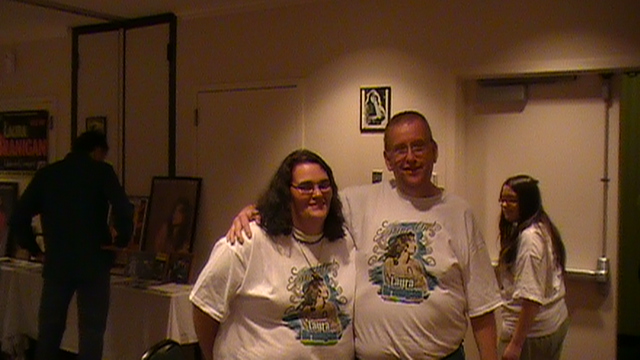 Jen and Jim

* Courtesy of John


Following our FUN photo time, it was time for those who wished to speak to the group during our "Fan Forum" time. Leading off was Tommy Bayiokos. Tommy opened by speaking about Laura's fine band and then proceeded to talk about the "music Laura", talking about how Laura demanded perfection and the after concert meetings that she held with the band for critique purposes. He then went on to talk about some of his favorite tracks to perform such as

Don't Cry For Me Argentina

,

Cry Wolf

, and his personal top-ranking one,

Heart

. Tommy related that Laura's philosophy regarding her music was to "be obsessed with it" - to be the top 1% and then more! He then spoke about Laura's love for cooking and simple desserts, like Baklava and some Easter pastries, both of which Tommy so kindly brought along with him to the hotel for all of us to enjoy, as he and Laura had. Next, he spoke a bit about Vince and I, and presented us with some special, very meaningful gifts. Following this was a presentation of his "TCB" (Taking Care of Business) karate patches to Erika and Jim. In addition, Tommy spoke about those in the business who when they hear Laura's name, they associate her with taking her artistry to a "whole nother level", as she was THAT good! Then he spoke about East Quogue memories - swimming, gardening, etc., and expressed that he loved Laura very much, and that they had spoken of a future. Tommy concluded by stating that Laura was happy in the end and that with her spirit, we are never alone.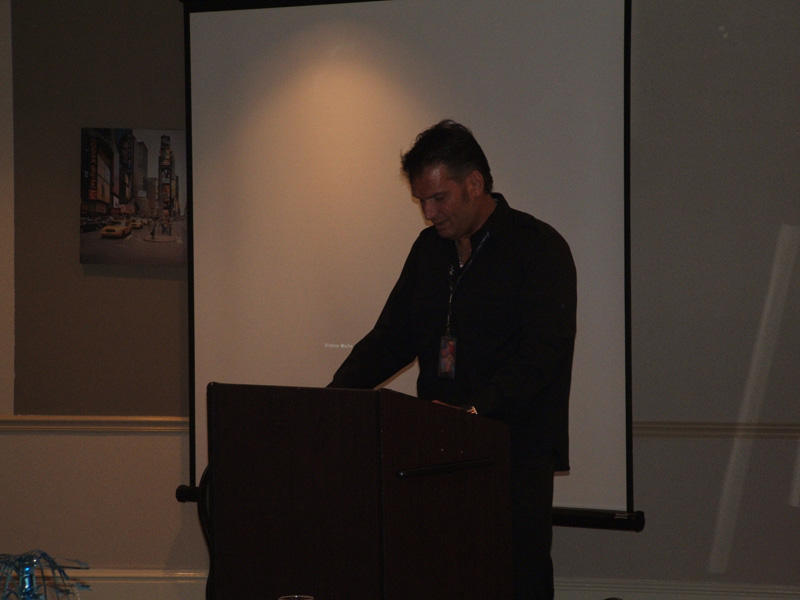 Tommy Bayiokos


Our next speaker was Jen, and she spoke from deep within her heart regarding what Laura meant to her, and how they became friends. She expressed some ways in which Laura showed her that she truly cared about her and spoke of how Laura wanted her to be truly happy. Jen also spoke about her very unique LB autograph tattoo and how much Laura would smile each time she saw it.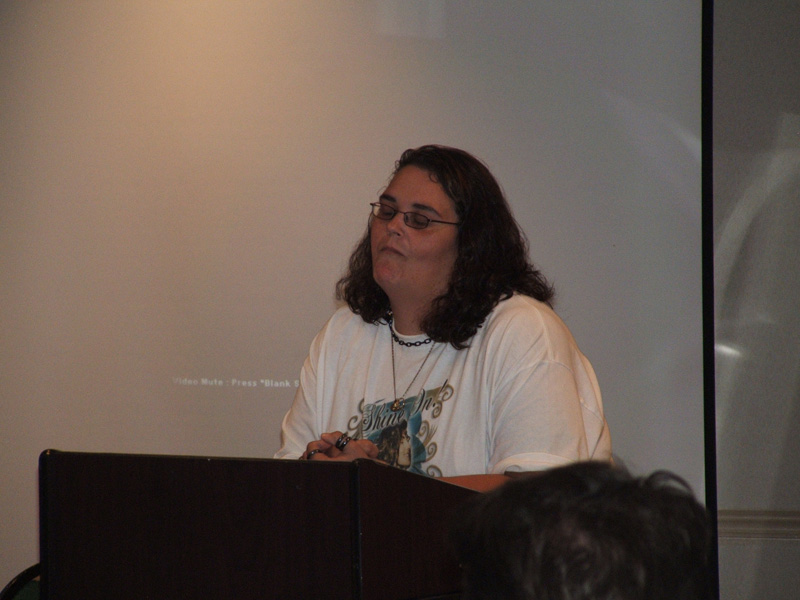 Jen


Finally, I addressed our group. I began by sincerely thanking everyone for being there for the weekend, and for Tommy being there for the fans and for Vince and I personally. Next, I spoke about the highlight of the year - the

Shine On

CD+DVD release - and how great it was to see the number one fan request for years finally come to fruition. Then I proceeded to talk about the magnitude of the lives Laura touched and how that all goes even beyond her being a singer, how she has touched us all in different ways. Furthermore, I spoke about Laura's last show in Boston - how spectacular it was - and the great time our small group spent with she and Tommy afterwards. I then talked about the last months of her life and how it was a positive and exciting time for her, and went into some specifics regarding the EP we were working on, the online store work, and the work on her proposed cookbook. I followed by relating how Laura wished to return to Canada to do some shows, and how we were working on booking a very elegant-type show for her in Ottawa. I continued with how everything was coming together for her so nicely - she had a close, core group of people surrounding her, she really felt loved, there was a strong trust amongst all of us, and she was in a good place, where her future was very hopeful. Next, I spoke of Laura always being with me in spirit and what a journey it all has been for me. I then expressed that my job with Other Half Entertainment is a busy one, and how the fact that I stay busy is a wonderful testament to Laura. I concluded with talk of how

Shine On

has sparked a resurgence of excitement for many and that that, in turn, bolsters the furtherance of her legacy, and also how all of that also helps us to deal with losing Laura.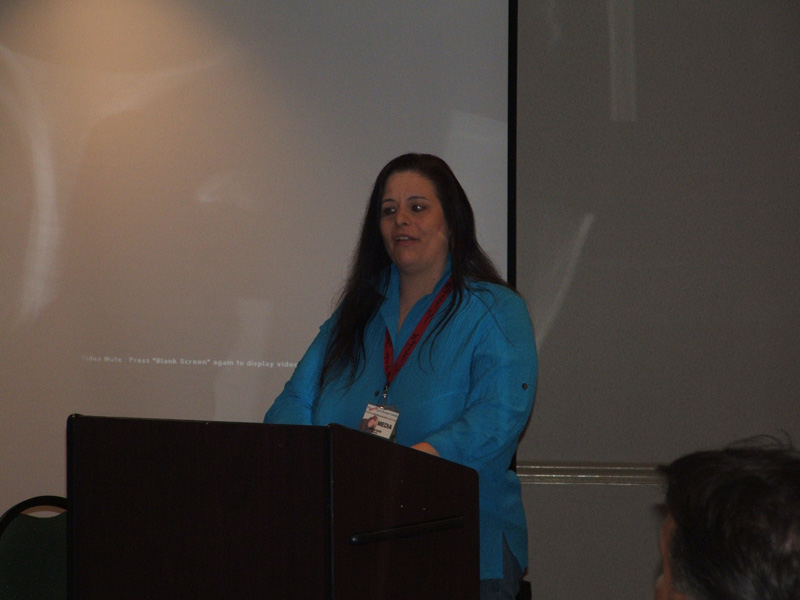 Kathy


I then introduced the

Shine On

TV promo clip. So wonderful to know that both the TV and radio promo spots got much airtime in South Africa.

Next up was our viewing of Laura's 1990 Atlantic City SRO concert.

We closed the formal part of the

Spirit Of Love

weekend with a showing of Laura's music videos, and it was SO GREAT to be able to use the new

Shine On

DVD for that purpose. So great to view a nice, crisp copy of Laura's video works!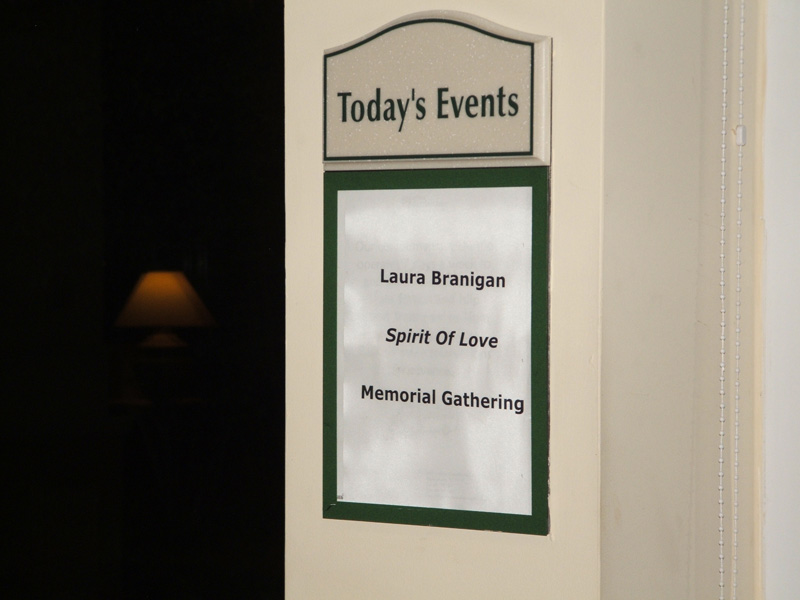 NEXT: Sunday, August 15 - Our casual outing in the Hamptons!

Kathy
_________________
Kathy and Vince
Member of The Recording Academy

Webmasters
LauraBraniganOnline.com
The Official Laura Branigan Website

I saw your sweet smile
I heard your laughter
You`re still here beside me every day
`Cause I know you by heart...