Joined: Mon Dec 16, 2002 4:30 pm
Posts: 4384
Location: Pennsylvania, USA
State/Province: PA
Country: United States
[font=Arial]
Hi everyone,

In April of this year the LB family lost a very special man and consummate "fanigan", Danny Raboin from Massachusetts. Danny loved Laura and her music, and whether it was at work at Tower Records or during his personal time, he was always eager and quick to talk about Laura and promote her music to others. Danny had told me that he had seen Laura in concert an amazing twenty-five times, and he was there with those of us in Boston for her final performance in 2004. Danny faithfully attended every

Spirit Of Love

memorial gathering that had been held so far, and he was always quick to point out that he would certainly be at each and every SOL held.

Given that Danny and the

Spirit Of Love

gathering will always be synonymous, I easily decided after his passing that we would dedicate this year's SOL to him, and that we would set aside time during the gathering to pay tribute to him. In addition, I thought it would be nice to produce a special remembrance video that we could show as well. To that end, I asked Erika, who presented a similar idea to me, if she would like to help us out with the video, and as usual, she quickly and wholeheartedly took on the task. We gathered photos of Danny submitted by fans, and I also contacted Danny's family to see if they would like to contribute some photos as well. Danny's step-mom, Doreen, very kindly sent us photos of Danny at different ages, which really completed the video in a special way. Once again we THANK all of you out there, and Danny's family, for your very kind submission of photos!

When it came time for our design team to work on the SOL 2008 t-shirt, we wanted the elements of the t-shirt to reflect both our remembrance of Laura and of Danny. For the front image, it didn't take any time at all to come to a consensus that it would somehow incorporate Danny's favorite LB track,

Shattered Glass

, and we ended up with am image based upon the music video. Erika came up with an awesome line for the t-shirt, which also became our SOL theme for the year,

"Forever Young...Never Forgotten"

- so fitting for both LB and Danny. On the back of the t-shirt, we placed "Dedicated to Danny Raboin". I think Danny would have loved the t-shirt!

As for the event program, Vince and I included elements as well which reflected our dedication of the event to Danny. Doreen kindly sent a box of some of Danny's LB stuff, and one of the things in it was a framed 8x10 of Laura. We decided to use that shot of Laura on the front cover, along with text designating the event as being dedicated to Danny. In the inside of the program, both we and Tommy Bayiokos referred to Danny in our articles. The back of the program features a photo of Danny taken at the 2006

Spirit Of Love

and words of remembrance.

As I had mentioned before

Spirit Of Love

took place, Doreen and one of Danny's best friends, Loretta, had planned a trip to Long Island to visit a friend, and as it was able to be worked out, that trip was going to coincide with the weekend of our event, and so plans were made for the both of them to stop in and meet us and other of Danny's fan friends on Saturday morning.

As opening remarks were made on Friday afternoon, the gathering was formally dedicated to Danny. During Laura's beach memorial that evening, Danny was remembered as well, and while we were there, when my live call-in with Codi Jeffreys from Majic 100 FM, Ottawa, Canada, began to trail off,

Shattered Glass

was waiting in the wings, once again in remembrance of Danny. THANKS, Codi!

What a nice surprise when we returned from the beach to our meeting room - there was Doreen, Loretta, and a friend! They also were staying at the La Quinta, and thought they would stop by for a bit since they had arrived. After having been in touch with Doreen over the past several months, it was so nice to finally meet her and the "infamous" Loretta (Danny LOVED to tell the story about the time he, his mom, and Loretta snuck into Laura's Hold Me concert!). After chatting for awhile, I presented SOL t-shirts to them as our gift - one for Doreen, one for Danny's dad, Doug, and one for Loretta, and also gave them copies of the event program. It touched me deeply to see how touched they were by receiving these items on Danny's memory. I was so glad that I had the opportunity to present the items to them in person.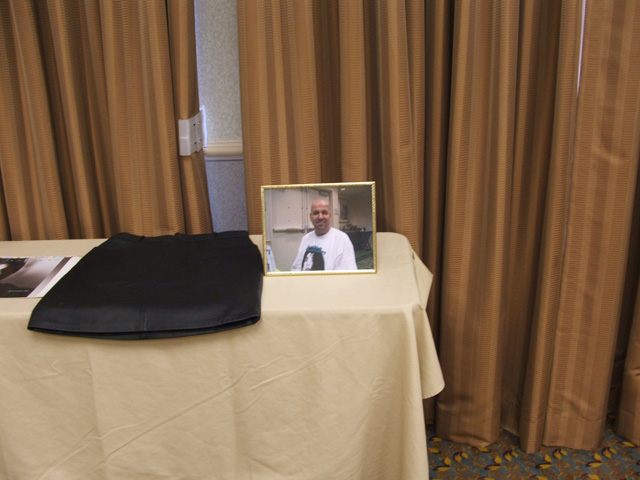 On Saturday morning we met up again with Doreen and Loretta. Danny's tribute time was slated to take place that evening, so that Tommy could be a part of that. Since Doreen and Loretta were visiting a friend that evening, and I wanted them to be the first to see Danny's tribute video, I took them aside at a table in the lobby and showed them the video on our portable DVD player. They loved it and were so appreciative of all the effort put forth in creating it. It was a such an honor for me to present copies of the video to them.

By the time the three of us walked back into the meeting room, Erika and J T, also close friends of Danny, had arrived. Introductions were made, and for the next half hour or so, our group had the most wonderful time listening to Doreen's and Loretta's stories about Danny, telling our own, and simply letting the both of them know the many ways in which Danny touched our lives. I think it was a very cathartic experience for both our LB family and for Danny's, in light of mourning his loss over the past several months.

Chatting about Danny...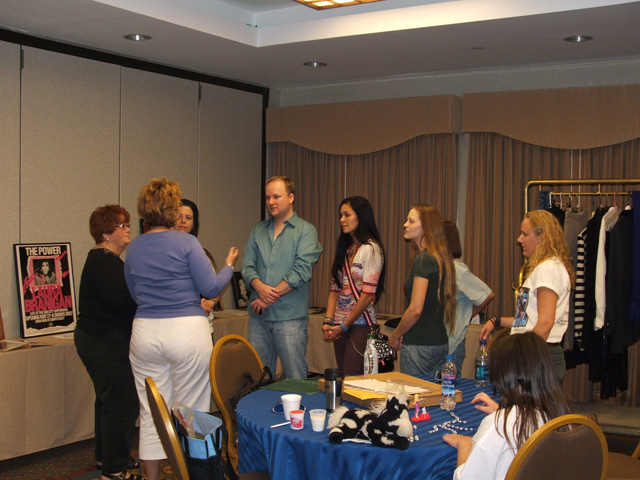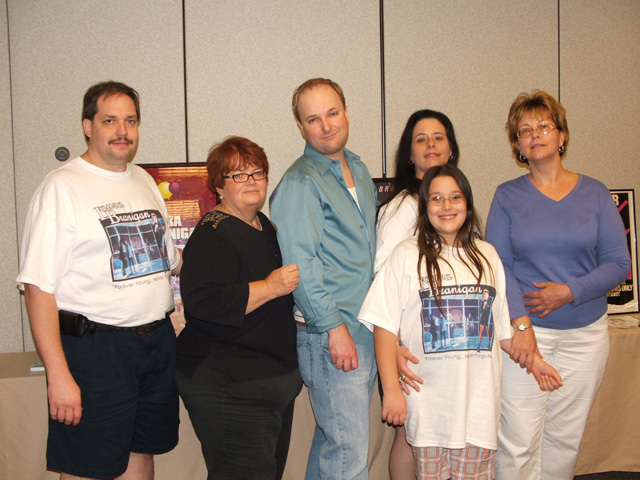 Vince, Loretta, J T, Kathy, Rhiannon, and Doreen

Fast forward to Saturday evening... Upon return from our dinner break, we went into our time of tribute to Danny. The video was shown and time was given for those who wished to speak about Danny. The music tracks used in the video are

Forever Young

, both studio and
live,

Shattered Glass

, and

I Know you By Heart

. THANKS again to Erika for all her work on the video! The tribute time was a beautiful remembrance of our dear friend. It was so nice to see Doreen and Loretta stop back in later that evening.

I can not express enough how much it meant to those of us there to spend time with Doreen and Loretta. They are precious, dear people who we are happy to call friends, and who are, just as Danny, part of our LB family. THANKS so much, Doreen and Loretta, for making the trip to
be with us, and for sharing with us about Danny. Rest assured that Danny will never be forgotten by his LB family...

Danny... we love and miss you! We certainly were the "lucky ones" to have had you in our lives, and we will carry you with us always...

Kathy
[/font]
_________________
Kathy and Vince
Member of The Recording Academy

Webmasters
LauraBraniganOnline.com
The Official Laura Branigan Website

I saw your sweet smile
I heard your laughter
You`re still here beside me every day
`Cause I know you by heart...