Joined: Mon Dec 16, 2002 4:30 pm
Posts: 4384
Location: Pennsylvania, USA
State/Province: PA
Country: United States
[font=Century Gothic]
On behalf of Other Half Entertainment and LauraBraniganOnline.com we have decided that this year's

Spirit Of Love

Memorial Gathering will be dedicated to Danny's memory. Danny faithfully attended all three gatherings in New York that we have held up to this point and was registered to attend once again this year. It's only fitting that we pay tribute to Danny in this way.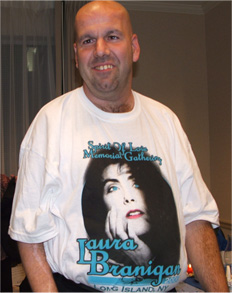 Danny... You may not be with us physically at this year's SOL, but we know you will certainly be there with all of us in spirit. We love you...

Kathy and Vince
[/font]
_________________
Kathy and Vince
Member of The Recording Academy

Webmasters
LauraBraniganOnline.com
The Official Laura Branigan Website

I saw your sweet smile
I heard your laughter
You`re still here beside me every day
`Cause I know you by heart...